Plumen Drop Cap Brass Pendant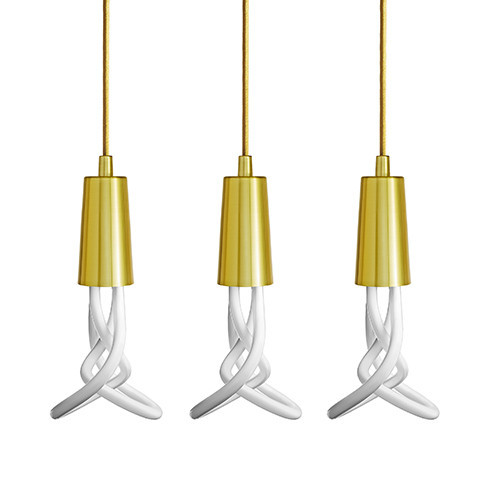 Plumen Drop Cap Brass Pendant
The Drop Cap Pendant is a tailor-made accessory for Plumen bulbs - the Drop Cap covers the lamp holder, framing Plumen bulbs perfectly.
The Drop Cap Pendant comes with a painted metal ceiling rose, lamp holder, drop cap and also contains 2m of matching fabric cable. It can be installed onto any ceiling and the cable length can be adjusted to your preference.
This product is only suitable for screw fitting bulbs (E27).
Size- 2m length of cable
By- Plumen
Screw Fitting (E27)
Fabric Cable
Cable Length: 2 metres
Ceiling Rose Material: Metal
Ceiling Rose Diameter: 55mm
Ceiling Rose Height: 50mm
Drop Cap Material: Metal
Drop Cap Diameter: 53mm at widest point
Drop Cap Height: 99mm
Product code: 1302021301
Class 1 luminaire
Plumen only, 11W max
A rated-lamps only
Not suitable for covering
Dry location only
Suitable for use indoors only
Voltage: 100-240V 50 /60Hz
Product Specification Sheet available here
The external flexible cable or cord of this luminaire cannot be replaced; if the cord is damaged, the luminaire shall be destroyed.